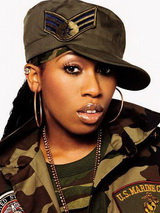 Missy Elliot
Missy Elliot
Singer, songwriter, producer, actress, Grammy winner, international pop culture icon, you name it, she's done it. Of course, we're talking about none other than hip hop sensation Missy Elliot here. Born as Melissa Arnette Elliot in 1971, she is much better known the world over for her stage name, Missy Elliot.
Music Career Achievements
Missy Elliot is best known to have sold over 7 million records worldwide and as the only female rapper to ever have 5 platinum albums certified by the RIAA. In addition, this worldwide superstar also has a shining accolade in the form of double platinum for her 2002 album, "Contact Me". Winning her first accreditation in 1996 as a producer while working on an album together with her childhood friend, R&B master, Timbaland, the soul music pop icon has since went on to far greater achievements. She has been credited with producing for many world famous artists such as rapping sensation Eminem and pop legend Madonna. Missy Elliot has also written songs for divas such as Maria Carey and Whitney Houston. In addition, even the extremely sexy Christina Aguilera and gorgeous Nelly Furtado have had the pleasure of working with Missy Elliot. Apart from them, she has also written and produced records for newer stars such as Ludacris and Lil Kim.
Missy Elliot & Adidas
Missy Elliot has also partnered with sportswear maker, Adidas, to launch a whole new clothing line. The new line of clothing is Missy's way of popularizing the urban street-wear culture. Heavily influenced by her time growing up on the streets and engaging in the hip hop scene, this new line of street fashion is ingeniously named, "Respect M.E.". A pun on the word "me", the initials also represent Missy Elliot herself. Most of the clothes sold under the Respect M.E. brand are meant for women, although the guys shouldn't feel left out as well as there are many designs which are unisex. The Missy Elliot Respect M.E. brand name made a huge push for presence and awareness just last year as they engaged 5 global ambassadors to spread the name.
Recently though, the Respect M.E. brand has been making the news for another reason entirely. Due to the way the brand logo was designed, it managed to generate some unwanted interest in the form of Denmark's royal family. Queen Margarethe II, the Queen of Denmark, feels that the brand logo for the Respect M.E. clothing line was based upon her royal insignia. As such, she is threatening legal action from the Danish royal family unless the logo is changed.
Missy Elliot has come out to say that no disrespect was meant and that any similarities were purely coincidental. Sportswear giant, Adidas, which is the parent company for the brand name, is understood to be far from willing to get into a lawsuit with Denmark's royal family and will change the brand logo soon.
With so many titles and awards to her name and so many industries that respect her, it is exciting to see just how far the Missy Elliot name will reach. Missy Elliot no doubt deserves the title of International Superstar and we should all learn to Respect Missy Elliot.