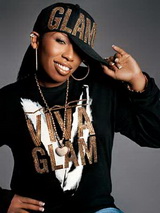 Missy Elliot
Ciara and Missy Elliot
Ciara and Missy Elliot share the same love for music as well as both being successful in selling millions of albums worldwide. Apart from that, the 2 are also similar in the fact that Ciara and Missy Elliot are both very versatile artists. Similarities aside, Ciara, aside from being an excellent singer is also a dancer and a renowned model while Missy Elliot is also a rapper, manager and a producer. Since the two have captured large number of fans in almost all parts of the world. The two decided to make songs and remixes together.
Collaborations between Ciara and Missy Elliot
Some of their songs include the following:
Lose Control

– Lose Control is a song that Missy Elliot and Ciara sing that became a hit the moment it got released. Lose control was included in the sixth album of Missy Elliot called "The Cookbook". It also became number three in the Billboard Hot 100 of United States and was included in the top thirties of various other countries. Additionally, Ciara Harris is one of the writers of this song and it was produced by Elliot. An interesting tidbit was how Ciara stated that the song Lose Control was about how music can make you lose your control. Elliot said that Ciara is the best she could have to help her with the song. She said that it is something that Ciara could definitely nail.

Work

– This song was originally performed by Ciara Harris and was included in her third album called Fantasy ride. Missy Elliot sings Work with Ciara, particularly verses with rap. The song made a very huge impact to both Elliot's and Ciara's fans. Another trivia about the song Work by Ciara and Missy Elliot is that this song was featured in a commercial for Verizon Wireless for LG Chocolate phone. Ciara also co-wrote this song with Marcella Aracia and Missy Elliot. It was produced by Nate Hills. This song was officially released last June 2009 and critics viewed this song as one of the most beautiful songs from Ciara's album "fantasy ride". Furthermore, its music video was carefully choreographed and made a huge impact on the fans and other music enthusiasts. That gave Ciara and Missy Elliot favorable feedbacks from almost all of the people who have watched its music video.

1, 2 Step

– 1, 2 Step is yet another one of the songs that Ciara and Missy Elliot sing together. This song was recorded by Ciara and Missy Elliot for Ciara's debut album called Goodies which was released in 2004. This song was co-written by Ciara and Missy Elliot. Jazze Pha produced this wonderful song and it was released in October 2004. 1, 2 Step has been one of the most famous futuristic hip hop songs during the time it was released. Up until now, you can still hear this song being played at your favorite disco bars.
Future Plans
Ciara and Missy Elliot worked together with many more songs and with all those songs there was never a time that they failed to hit gold. The artists do not rule out plans to work together again in future.