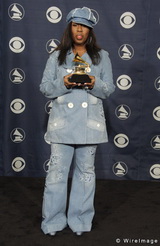 Missy Elliot
Missy Elliot Clothes
Missy Elliot designs the essential verve line in the wardrobe of girls who are concerned with their choice of clothings. Among the various Missy Elliot clothes, there is this brilliant Respect M.E. Originals' Spring and Summer collection, which was launched in the year 2006.
A 5-time Grammy Award-winning singer, producer and composer from the US, Missy Elliot is the one female rapper with 6 albums which are officially platinum under the certification of the RIAA. In addition, she has a double platinum titled "Under Construction". On top of that, Elliot is connected with Break the Cycle, a charity group which aims to eradicate family violence which is known to be part of her past.
A Royal Dispute
Recently, there was even news that the Queen of Denmark ordered the changing of her Missy Elliot's clothes range's logo. Initially, the rap star has her personal assortment of Adidas sports apparel which spots a logo designed and created with her own idea. However, after some time being available in stores, Queen Margrethe II from Denmark filed a complaint, stating that the logo seemed overly identical to her own royal symbol and insisted on Elliot's logo being removed with immediate effect. To avoid any potential lawsuit from the royal family of Denmark, Adidas had no choice but to completely take the entire batch off the shelf.
A representative for sports giant Adidas, who produced the line with Elliot, reiterated that Adidas has no intention to directly copy any logos related to the royalties in Denmark, as well as any country in question. The Adidas design team collaborated closely with Missy Elliot to come up with a new logo in the shape of a crown. Affectionately known as the queen in the hip-hop industry, the crown was created due to the nickname given by the fans to Missy Elliot.
"Respect M.E." is the name of her clothing line produced by Adidas. Adidas stated that they had no intention to change the logo or the line anywhere else in the world. The line comprises shoes, clothing and accessories and runs in ladies sizes from extra small to double extra large especially for the plus size girls. In relation to the logo, Adidas was hit with the lawsuit over the Missy Elliot Clothes Line by a charity organization from the US. It claimed that Adidas was inappropriately using the logo for the marketing of Missy Elliot's clothing line.
Missy Elliot Style
Missy Elliot also revealed that she has been unable to find a long term partner because of the fact that she adores wearing sports apparel. However, she has emphasized that her tomboyish dress sense will not be compromised for finding true love, which was due to her own upbringing since young. Her mother loved to buy dresses spotting tons of laces in an effort to make her as feminine as possible, but this backfired drastically, which led to her infatuation in tracksuits once she discovered them.
Missy Elliot clothes bring their own style and sense to the dynamic fashion world and look set to stay for a long time yet.