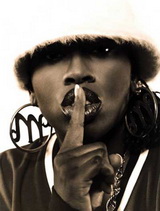 Missy Elliot
Missy Elliot Music
When Missy Elliot came out with "The Rain", she immediately got the listener's attention in the hip-hop scene. This was back in 1997. It is commented that her vulgarity in her lyrics is well-taken and some of it is funny and simply harmless. Her lyrics were even compared to that of Prince, who got away with most of his sensitive lyrics. She has a lot to say, and she does this with wit and wisdom and goes along with the fantastic beat that surely moves the listeners. Her music is listened and rated and applauded.
High expectation of Missy Elliot music from critics
When a great hit comes out to join the list of Missy Elliot music, critics wonder if her next release could match or even succeed the present single like what was expected after "So Addictive" came out. And then "Work It" proved to be another great single. "Under Construction" is reviewed to be one of the best R&B/Hip-Hop albums. In her "Go To The Floor", the music mentions the passing of Aaliyah and this is a great dance music where Timbaland gives one of his tight beats. Method Man does some rap in her single "Bring The Pain", where Missy expresses guy infatuation with her lyrics and still more exceptional beat from Timbaland.
In her single "Gossip Folks", Missy has some emotions in the music about the gossip and negative feelings that's been said about her. Ludacris also has some rap contribution in this single. Jay-Z raps in the single "Back in the Day" which is pretty much about the change in the flavor of music where Timbaland gives the old-school beat. In the "Funky Fresh Dressed" Missy does a freestyle rap with Ms. Jade, and this is said to be one of the best songs in the album where Missy is at her best and still great work from Timbaland. Beyonce gives some character to Missy's "Nothing Out There For Me", where Beyonce joins Missy in the chorus. This song was also produced by Missy.
Empathy present in Missy Elliot music
A great dance song from Missy is "Slide" where Timbaland still continues to give great beat to Missy's music. More great Missy Elliot music and Timbaland are "Play That Beat", "Ain't That Funny" and "Hot". An emotional song from Missy is "Can You Hear Me" where she has TLC with her singing about the passing of Aaliyah. Her music here is so moving that it's like you can actually feel the pain that she's feeling with the loss of Aaliyah which affected her tremendously. This event in her life added to more of the emotions and heart that she's able to impart in her music. She not only gives great dance music, but also great music of emotions and expresses hope and great memories in this single.
Missy Elliot music is known for being as hot and totally original in flavor as being compared to the other hip-hop or R&B singers. It may be old-school, but still has great beat for dance music. The combination of Missy Elliot and Timbaland produces great music that can not be compared to the others because of its uniqueness.