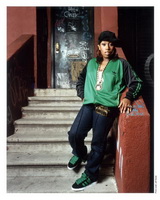 Missy Elliot
Missy Elliot Clothing
Most of you who are into the hip-hop music scene will no doubt have heard of Missy Elliot. Known for her chart-topping songs and incredible dance beats, Missy is no stranger to the world of culture and music. However, what most don't know is that this international superstar is not just famous for the songs she sings or music she makes. In fact, Missy Elliot is hoping to go one better than that and become a worldwide sensation in the fashion industry as well.
Launching Her Own Brand
Following a string of artists who have since launched their own clothing lines, Missy Elliot has come up with an own brand of Missy Elliot clothing. Britney Spears might have launched her own boutique and Elizabeth Hurley has been turning heads with her drop-dead, sexy lingerie and bikini line, but it is the hip-hop sensation, Elliot, who has been making the most headlines of late. Missy Elliot clothing is meant to bring out the style and attitude of the hip-hop singer and allow people to emulate her fashion sense. Through her line of clothes, the singing sensation hopes to give the world a window into her world of fashion and bring the street style back into mainstream popularity.
Known as Respect M.E., her unique line of clothing is sure to be a hit among not just her fans, but those who love the urban hip-hop style as well. Heavily influenced by American street culture, most of the Missy Elliot clothing line would not be suitable for wearing to an evening dinner or a movie gala premiere. However, the clothes are perfect for the casual fun day and showing off your unique verve, vibe and energy at the local mall, game or dance club. In addition, Missy Elliot clothing is priced extremely reasonably and will no doubt be an affordable and extremely tough competitor to many of the currently existing sportswear giants out there. The clothes in the Respect M.E. line are extremely similar in style and sense to what you can find from Adidas and Converse. This will no doubt be a huge draw to the young and hip crowd.
Origins Of Missy Elliot Clothing
Missy Elliot has also shed some light onto why her line of clothing was designed as such in the first place. Although Missy wanted to share her sense of style with the world and get the mainstream media to appreciate street and urban culture, the real reasons for her own passion in this style was due to her upbringing. Constantly dolled in beautiful dresses and girly blouses, the international superstar's rebellious streak soon managed to get her dressed in a tracksuit. That was the turning point of it all and once the young Missy Elliot got into that getup, she got addicted to it. Her dressing has since been heavily influenced by the hip-hop culture.
Missy Elliot clothing is priced extremely affordably and is an up and coming new range of clothes. The line is expanding and plans for new stores are in the works. Expect a Missy Elliot clothing store near you soon.