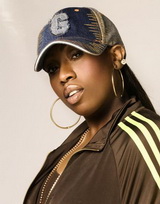 Missy Elliot
Missy Elliot CDs
Missy Elliot CDs are known for their dry, yet extremely powerful bass lines. One of her best albums is 'Respect Me' and this album contains17 tracks, which are songs originating from her previous 6 records. As early as 'Supa Dupa Fly' from 1997 to 2005's 'The Cookbook', you can find a multitude of Missy Elliot's hit songs inside 'Respect Me'. The album starts with the song 'We Run This', and the track listing includes the following songs: 'Hit Em Wit Da Hee', 'We Run This', 'All In My Grill', 'One Minute Man' 'Lose Control', 'Get Ur Freak On', 'Work It', 'Teary Eyed', 'Sock It To Me', 'The Rain (Supa Dupa Fly)', and also 'Pass The Dutch'.
Early Work
Meanwhile, Elliot's ex-partner Timbaland collaborated with Justin Timberlake to produce his record 'Futuresex/ Lovesounds'. Timbaland and Elliott cooperated to produce tracks for acts such as 702 and SWV. The most noticeable of these was Aaliyah. The pair also composed and created nine other fast beat tracks for "One In A Million", the second smash hit album of Aaliyah. Among these Missy Elliot CDs are the hit singles "4 Page Letter", "If Your Girl Only Knew", as well as "Hot Like Fire" and "One In a Million". For majority of the tracks Timbaland and she produced, guest raps and background vocals were added by her. The highly regarded album among all Missy Elliot CDs, "One in a Million", became double platinum subsequently and the two-man team instantly shot to fame.
Life after That
"The Rain", released in 1997, was a huge hit as well and attained platinum status soon after its debut. The success was also a result of the music videos of her single releases. As a background producer, her career had proven to be a successful one. Total's single, titled "Trippin'", was released in 1998, along with other productions and albums of many different R&B and hip-hop groups. She was even invited to appear as a cameo in Melanie B's "I Want You Back" single. This then went on and topped the charts in UK.
"The Real World" included the singles "All In My Grill", which is a collaboration with Big Boi (from OutKast) and Nicole Wray. In 1999, along with Da Brat, Elliot was part of the production crew involved in "Heartbreaker", a really well-known single by Mariah Carey. After a few years in 2001, "Miss E So Addictive" was available in music stores. The CD, "Under Construction" was more of an old school sound, utilizing many old school rap and funk samples. While "This Is Not a Test!" rose high up the urban charts, it was not as successful at pop radio in comparison to many of the previous Missy Elliot CDs. Elliott wanted to "give people the unexpected" by utilizing producers other than Timbaland and a "more to the center" sound. This album debuted at number two on the U.S. charts and its first single is entitled "Lose Control". Finally, "Respect M.E." is Missy Elliot's first greatest hits album.