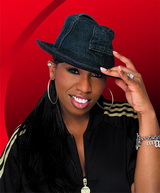 Missy Elliot
Missy Elliot Clothing Line
When you first hear the name Missy Elliot, the thing that springs to mind is most likely to be sultry hip hop music and energetic dance beats. This soul music, hip hop sensation has not won just 1 or 2, but 5 Grammy awards as her music continues to dazzle and be loved by millions all around the world. From singing to songwriting to producing, Missy Elliot has done it all. In addition, the world renowned singer also has 6 platinum albums to her name, including the extremely rare double platinum, Under Construction. Just when you thought that you've heard all there is to know about Missy Elliot now, she surprises us all with her new clothing line. Did someone say Missy Elliot clothing line?
Respect M.E. Fashion
That's right. You can now dress like Missy Elliot. The singer has partnered with sportswear giant, Adidas, to launch her own brand of clothing. Labeled Respect M.E., the all new Missy Elliot clothing line features items that are geared at bringing out the hip hop urban style in you. Missy Elliot hopes to let everyone else enjoy the same street culture way of dressing that she has and feel the vibe and energy resonating from it. Heavily influenced by her life and growing up on the streets, the Missy Elliot clothing line is definitely set to be a major hit in the mainstream fashion world.
Clothes from the Missy Elliot clothing line are currently designed for the new-age urban woman. Mixing original street style wear with radical new fashion from this time and age, the Missy Elliot clothing line is truly unique in its own right and style, seamlessly blending in the old with the new. Guys who love this style of clothing are not left completely behind too, as the Respect M.E. line also boasts an amazing collection of unisex clothes, perfect for the new age urban male. With new collections coming up every season, the Missy Elliot clothing line promises to stay fresh and true to the term fashion and keep up with the dynamic, moving times.
Respect M.E. Legal Trouble
Recently though, the Missy Elliot clothing line has been making headlines for less than desirable reasons. Apparently, the Queen of Denmark, Queen Margarethe II, felt that the brand logo for the Respect M.E. fashion line was much too similar to the royal emblem. The Danish Royal family has since moved to threaten legal action against Adidas and the Respect M.E. line unless the logo is resigned. In regard to this incident, Missy Elliot has come out to claim that there was never any intention to neither imitate nor resemble the Danish Royal crest. All similarities were purely coincidental. Nonetheless, to avoid lawsuits from Denmark's royalty, the sportswear giant and Missy Elliot are poised to come up with a new emblem for their stylish brand.
Lawsuit or not, the Missy Elliot clothing line is all set to grow. With global brand ambassadors and a chain of retail stores, now is the time for the world to take notice of Missy Elliot. Hip hop fans rejoice. The Queen is here. Respect her.