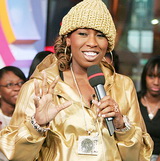 Missy Elliot
Missy Elliot Cookbook
Unless you grew up on Mars, you will undoubtedly have heard of the name Missy Elliot. Even if the name does not sound familiar to you, simply listening to the tunes of one of her various chart topping hits should jolt some memories back.
History of Missy Elliot
Born in 1972 to the name Melissa Elliot, the artist began her singing career way back in the last millennium. Using the catchy stage name Missy Elliot, she soon began her climb to superstardom and has never looked back since. With a plethora of award winning hit songs to her name, a Grammy award as well as 5 platinum albums recognized by the RIAA, no one can doubt the worldwide recognition and talents of this sensational hip hop artist. In addition to that already mesmerizing list of achievements, Missy Elliot is also known to be the only female rapper in history to have double platinum to her name with the critically acclaimed album, "Under Construction".
Apart from singing, Missy Elliot is also well known to be a major force in the music scene with songwriting and producing experience. This musical talent has written and produced for some of the biggest names in the music industry such as Madonna, Maria Carey, Beyonce, Christina Aguilera, Ludacris as well as Nelly Furtado. Her partner in crime for this scary list of amazing works is none other than her childhood friend and musical mad genius, Timbaland.
Missy Elliot's "The Cookbook"
In 2005, Missy Elliot released an album titled, "The Cookbook". Missy Elliot Cookbook is the 6th album of hers and differs in style from her previous 5. Many critics call it a return to her origins as she mixes the old and new in a revolutionary new style of music. The Missy Elliot Cookbook track list boasts songs such as Joy, Party Time, Irresistable Delicious, Lose Control, My Struggles, Meltdown, On & On, We Run This, Remember When, 4 My Man, Can't Stop, Teary Eyed, Mommy, Click Clack, Time and Time Again as well as Bad Man. Many of these became international hits and chart topping tracks on radio stations around the world.
In addition to the incredible list of songs inside this album, this hip hop R&B songstress also teamed up with many big names in the music scene in producing the Missy Elliot Cookbook. Some of the other stars who feature on this album include Fantasia, Fatman Scoop, Grand Puba, Mary J. Blige, Mike Jones, Slick Rick, Ciara, Vybez Cartel and M.I.A.
Due to the change of style for Missy Elliot Cookbook, reviews from her long time fans have been rather mixed. The new style of mish-mash does not sit well with some of her loyal fans although others were found to love it much more than her previous albums. Nonetheless, regardless of which side of the fence you are sitting on, you cannot deny the fact that the Missy Elliot Cookbook is an amazing album worth every single minute you spend listening to it. If you are a fan of hip hop music and R&B on the whole, then Missy Elliot Cookbook is one album you simply cannot afford to miss.